Help & Instructions
How to Make a Preformed
Saw-Cut Loop Fit Every Time
As long as you are slightly conservative in your measurements BD Loops performed 3/16″ Saw-Cut Loops will fit everytime!
Made the cut/pattern too Small?
You can't make the preformed loop any bigger, but you can make it smaller by using this trick. Push the yoke down the lead-in run towards the gate operator laying the loop wires side by side in the groove. Additional cutting to accommodate the width of two wires side by side may be necessary.
Made the cut/pattern too Large?
Once again, the loop cannot be made any bigger, to make the loop fit follow these
simple instructions: Cut the dog ear corner larger opposite of the yoke to make the loop's perimeter shorter. If the additional cutting made the pattern too small follow the previous
trick.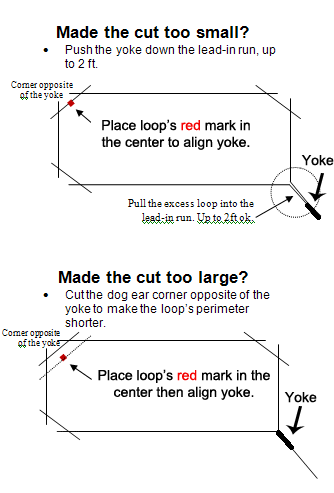 Here is a helpful visual that shows how to make a BD Loops Saw-Cut loop smaller: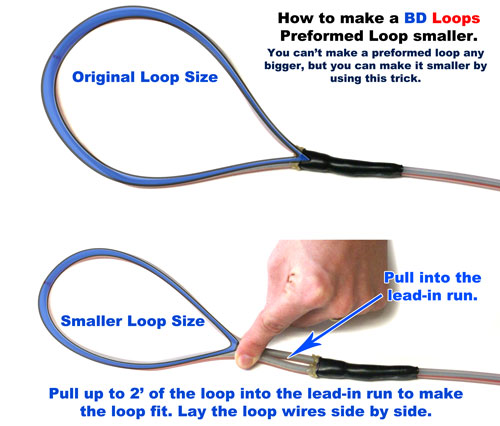 As you can see the loop can be pushed together and put into the lead-in run. You would need to make a wider cut for the lead-in (for just a foot or so) to accommodate the width of both sides of the loop being pushed into the groove.
If you find yourself cutting the same size grooves for most of you applications, you can save time when laying out your loops by making a template pattern.
The Loop Experts!
BD Loops was founded in 2001. Their preformed loops and accessories are designed with the installer in mind. BD Loops offers a complete loop system solution including preformed direct burial loops, preformed saw-cut loops, loop sealant, blades, testing devices, and installation tools. BD Loops has a reputation for reliability and ease of installation. They pride themselves on the quality of their products and their commitment to providing excellent customer service and support. BD Loops preformed loops are made in the USA at their facility in Placentia, CA.